Virtual Empowerment Training Progammes Started During Covid Continue to Supply Vital Help for Grandfathers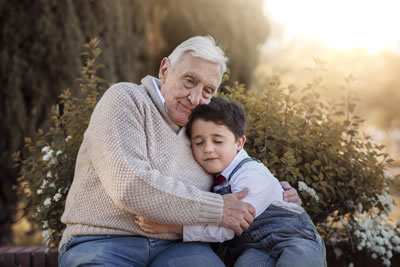 Grandfathers and grandchildren teach each other new skills and take pride in the other's achievements.
Empowerment Training Was Found to Enhance the Lives of Grandparent Caregivers and to Improve the Quality of Their Relationships with Their Grandchildren.
Sydney, Australia – 25th October, 2022 – The worldwide pandemic placed many pressures on inter-family dynamics, including between grandfathers and grandchildren. Many grandfathers struggled with a lack of resources, isolation, and the challenge of helping children navigate online learning. There was a need for interventions designed to promote grandparents' well-being and to alleviate the stress associated with raising grandchildren. The use of Virtual Empowerment Training Projects has been hailed as successful, and it is proposed that they continue to be used.
For more than twenty years, empowerment training programs have been used to strengthen the parenting skills and well-being of custodial grandparents. Experts estimate that nearly three million grandparents were raising their grandchildren in the United States during the pandemic. While various different models have been used around the world, the New York program is typical of many. A seven-session program for grandparent caregivers included classes that strengthened parenting, taught communication skills, shared coping mechanisms for loss and grief, and involved community empowerment. Participants were given tablets and computer training before the classes, which were all conducted through Zoom. A review by Carole Cox, titled 'Virtual Empowerment Training: Reaching Grandparent Caregivers During COVID-19', found that "Participant evaluations of the course were overwhelmingly positive, with more than 90% finding it extremely helpful, valuable, and eager to share it with others and to become more involved in improving the lives of grandfamilies." Grandfathers taking part in similar empowerment program in Tanzania found it "helpful and applicable in their daily lives. Moreover, they stated that they were readily sharing the information with others in the community.
While there have been many studies into the role of grandmothers, it is not until recently that scientists have started to look at the part grandfathers play in families. According to research carried out by Coall, Hilbrand, Sear & Hertwig and published as 'A New Niche? The Theory of Grandfather Involvement', there are "a range of influences on grandfathering operating at the individual, familial and broader economic and cultural levels. Evidence points to grandfathering filling a new niche in modern societies: changing demographics mean there is greater need and opportunity for actively engaged grandfathers to help their families, especially in times of need."
The traditional view of the grandfather's role in the majority of research was as the authority figure in the extended family system, helping with advice, job-hunting, and money management. Grandfathers often declared disinterest in the prospect of grandchildren, but their attitudes usually changed after the birth of their grandchildren. More in-depth research focussed on grandfathers exclusively and not just in combination with grandmothers showed that grandfathers are now more involved in their grandchildren's lives.
From in-depth interviews with just grandfathers, Roberto, Allen, and Blieszner (2001) found that the relationship between grandfathers and grandchildren was continually reshaped throughout their lives. In particular, it became stronger when challenges occurred, such as divorce. Grandfathers served as a source of support and as a socializing influence for grandchildren. Researchers have theorized that a number of contributing factors may have caused this greater involvement by grandfathers, including smaller families, greater financial prosperity, increased education, earlier retirement ages, and longer life expectancy.
Having a grandfather involved in a grandchild's life typically has a positive effect. It often seems to be a mutually beneficial relationship, with both grandfathers and grandchildren teaching each other new skills, taking pride in the other's achievements, and valuing spending quality time together. Magdalena Kusyk, owner and founder of 4Retirees, has noticed this in her online community. "Many of our retirees are grandfathers and often discuss ways they can play a supportive role in their grandchildren's lives. In turn, grandchildren like to show appreciation for their grandfathers. In our gift shop, the popular gifts for granddads tend to be the ones highlighting their accomplishments."
Due to improved healthcare and decreasing mortality rates, men today, on average, spend more than a third of their life as grandparents. In their article 'Grandfathers in Contemporary Families in Britain: Evidence from Qualitative Research', researchers Robin Mann and George Leeson found that "grandfathers tend to highly value their roles in passing down cultural traditions, providing instrumental support, and as mentors who provide guidance to their grandchildren". Grandfathers want to be a positive part of their grandchildren's lives and to actively find ways to create good memories with them. Most grandfathers are eager to find ways to become better grandfathers, so they are happy to engage with the Virtual Empowerment Training Projects. All generations of a family feel the benefits of these programs, but in particular, they lead to happier grandfathers and grandchildren.
Media Contact
Company Name: 4Retirees
Contact Person: Magdalena Kusyk
Email: Send Email
Phone: +61 424 343 411
Address:Level 2 11 York St
City: Sidney
State: New South Wales
Country: Australia
Website: https://4retirees.com