Film Post Producer Angelin Song – "Fatal Joke", The film shot on Red 8k Epic-W 8k raw R3D format
Film Post Producer Angelin Song
How did you come to be involved in the industry of post production?
I get involved in the post production since I learned Davinci Resolve and Adobe Premiere editing software. I have some Photoshop experience before, so I interested in those editing software easily because they share some resemblance. I also took some classes which involved Avid Media Composer, a highly populated editing software in industry, then I immersed in the World of Post Production. There are two award-winning projects directed and post production by me that I cooperated with producer Aleix, a film producer.
Please give a complete and detailed summary about films you regard as excellent works.
First and foremost, my own project, "Fatal Joke" The film shot on Red 8k Epic-W 8k raw R3D format. It is a really great project with fantastic lighting and color for the production design. It is drama and black humor about Wife's "Fatal Joke" changes brother's relationship. We got three award winner in festivals: Festigious Los Angeles, Los Angeles Film Awards, Top Shorts.
Secondly, "Halloween Love Story" The story is about a triangle relationship lead to bloody killing in Halloween time. This project got Official Selected in "IndieX Film Fest". Semi-Finalist in Los Angeles Film Awards, Award winner in Festigious Los Angeles.
Project, "Jeager", a mystery, Scifi film about old generation pass on the old traditional culture to last generation of people, but father did not tell the truth that he is going to be a demo. This film demonstrate the conflict in the heart of her, but in the end the love in his heart overcome the evil and bring her daughter back home. This film got Award winner and Best Editing in "Asian International Film Festival".
What was it that convinced you that post production was ideal? What kind of extra stress does preliminary work of film production place on you and the director? How do you keep your director positive in these types of situations?
First of all, post production is different with any other role in film industry, people involving in this role spend most of their time sitting there, facing to monitor and editing log with assistant editor and sometimes with director. You gain most of control and most creativity on the project. Sometimes, something failed on production but I, as a editor, have the ability to unleash the maximum performance of what I got. The stress is obvious that a lot of changes, a lot of files organization and detail- oriented conversations with director. Those are stress, time-consuming, unpredictable direction of where I go in the early phase I got the work, especially the shots are unorganized. I, as a editor, must show most positive attitude to director, not only I want keep my position as a editor, but also I need to let director understand where the project can go, what result we can get and what result we cannot get by telling director shots we can use, and the timecode audio problems. Tons of stuff I need to talk to director sometimes, and the most importantly, I have to keep positive attitude otherwise the project would go down for sure.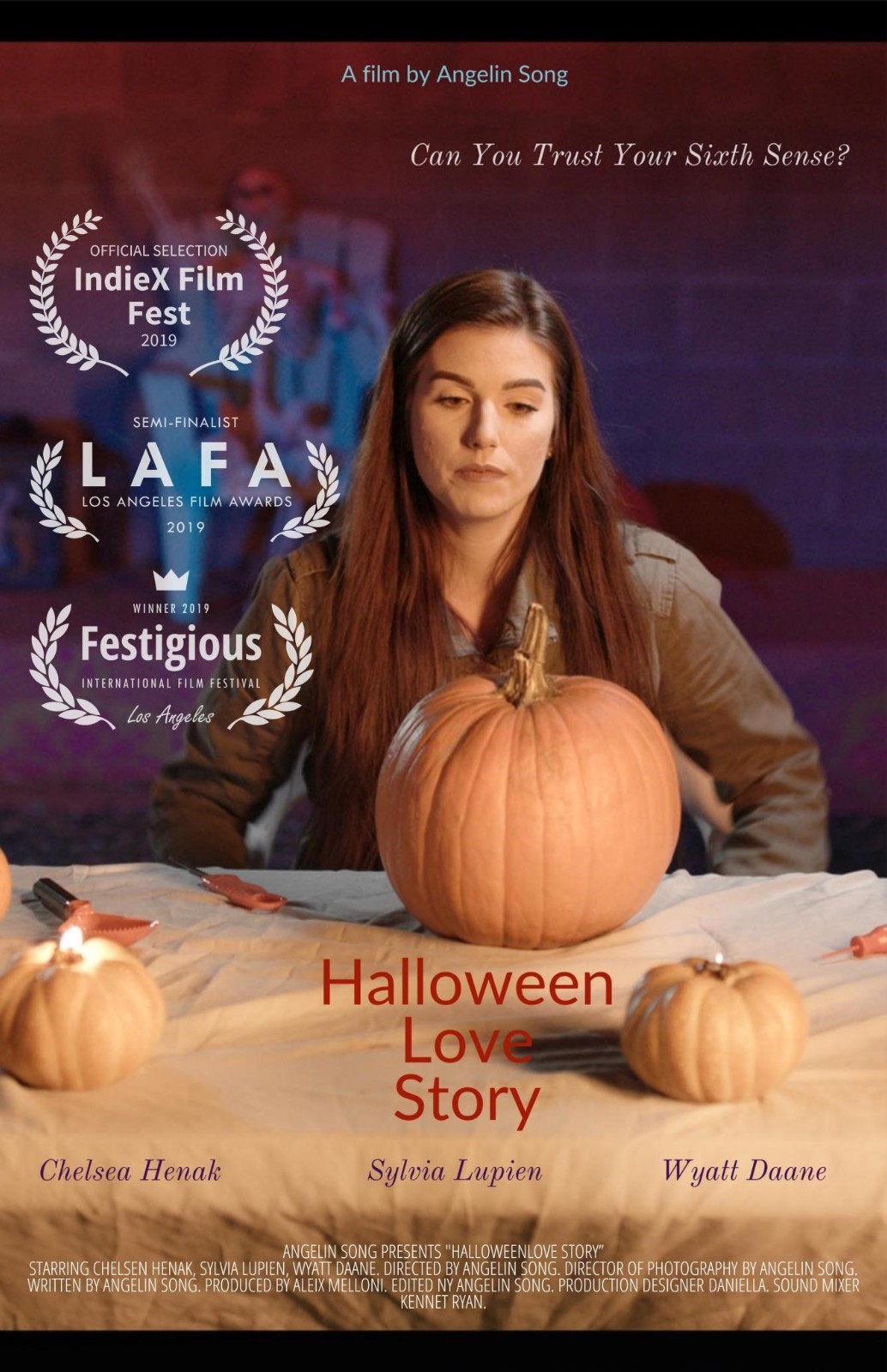 Please describe your experience working with the director of this film.
The short film, "The Eagles" directed by Hanyang Huang is a very impressive project. I served as a editor on this project and found Huang is a very decisive and creative guy. He is well organized, clearly knowing what himself looking for, pursuing the goal without compromise especially on post production, There are two points he wants me to reach on this project as must: 1. Cut the scene in combat as fast rhythm with high intensity warfare, without dragging and feeling of time-wasting. Highlight the scene with peaceful mood, character's desire for ending the war and the value of love.
Please discuss your interaction with the different cast members.
In my opinion, the thing that I proud of and leading projects to success is the interaction with producers. First of all, we are all detail-oriented, For example in project, "The Last Call", the producer told me clearly what he wants and what he don't want me to do before coloring the project, and we went through scene by scene, shot by shot to compare the reference shoot he sent me and the mood in his mind even we changed a lot of times but the whole process looks smooth at all.
You mentioned importance of preliminary work of this film. You think it embodies personalized creativity/art of the producer or director. Many people think of a producer as a business person in a film's production; while this can be true, normal running of later work shall be ensured by preliminary work. How would you describe the relationship between preliminary work and later production as for art in post production? What do you think it is in your personality and state for these aspects?
Preliminary work is one of the most essential part of work in the whole project. I understand something often change or go awry in later work since the production could include many uncertain factors. But In order to minimum the possibilities of those changes, we have to ensure everything detailed and organized. The preliminary work must be done with detailed- orientated, producer, director, and other crew member must be well- informed of all the process. Sometimes personalized creativity of director could throttle the speed of production, and sabotage the schedule and budget of production. And it could give post production hard time as well, it compressed the schedule of post production, sometimes director want make changes, such as reshoot or pick- up shot, or sometimes director do not know what he or she wants then it will lead post production become a time consuming, without an ending. Therefore, preliminary work is very essential, it at least has to confirm some of most content and decision by director and producer in this project before going through post production.
What was the most memorable part of you involvement in all the works?
The most memorable part I want to talk about is my involvement in the project "Jeager". I am the person organizing footage and audio. However, the footage is not enough for use due to the schedule limits. The director really concerned about the result, at the critical moment, the DIT Digital Image Technician voluntarily came to help us organize the footage with me, and gave me some thoughtful ideas based on his experience and we got consensus at the end.
What was the most difficult part of your involvement in this production?
The best laid plan sometimes happen. I find trouble to gain the footage from my hardrive after the classroom scene finished in the course of production "The Fatal Joke". All the footage of classroom scene we shot disappeared, it lead us to nowhere, all crews time and effort wasted. At that part of involvement, I really blame myself, I follow all the instructions and steps to handle the hardrive, but this hardrive still went awry and dead, and everything erased. At that part of time I told my crew member, cast and my producer we have to re-shoot this scene or give up the project. Consequently, this problem lead some crew change, but most of us stick together and reshoot the scene, and my actors choose to stay with me working for free, and we finished the production and this project "Fatal Joke" got success, gained three award winner.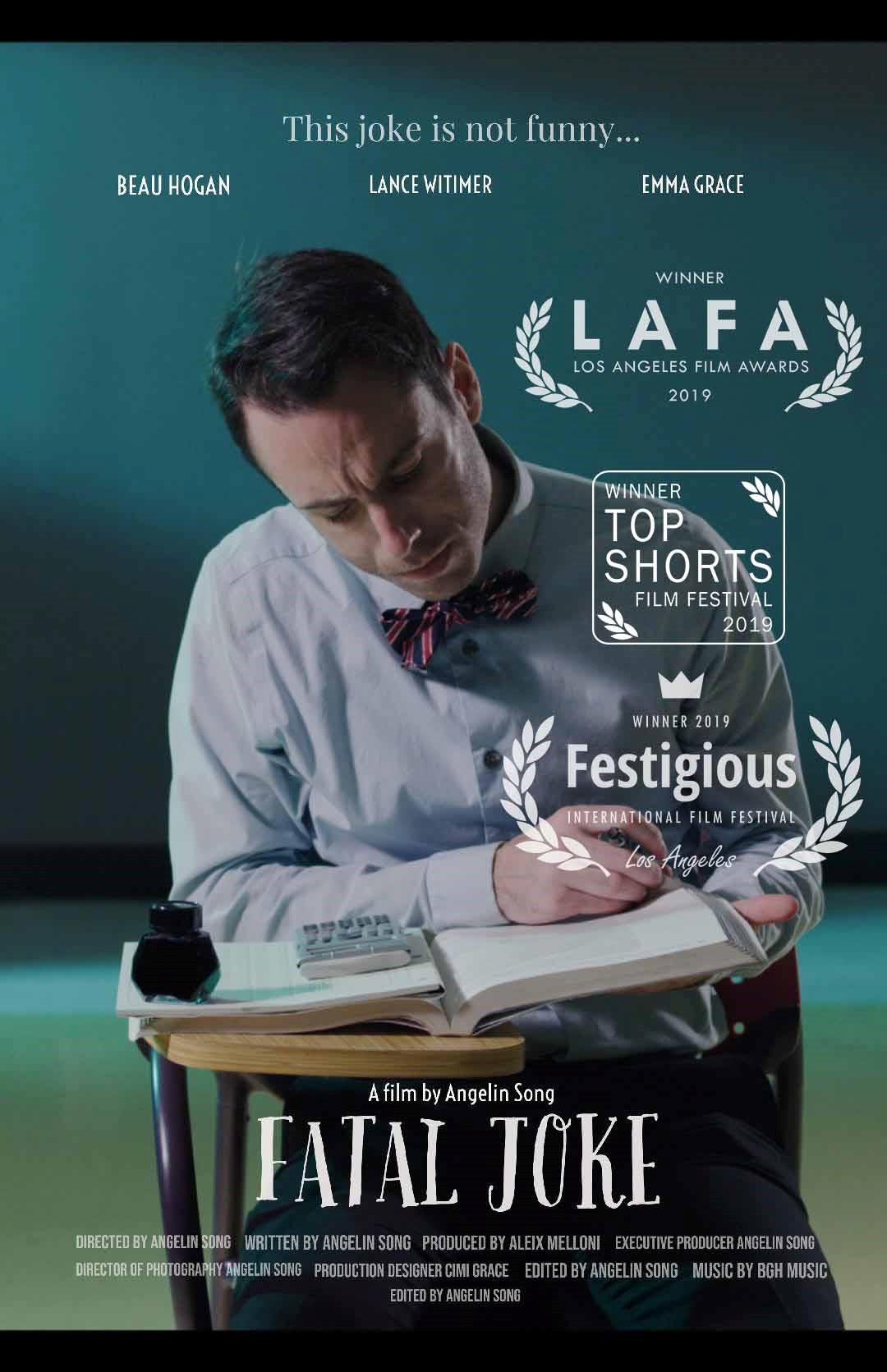 What was the most rewarding part of your involvement in all the works?
The most rewarding part of my involvement in my works should be moments when I see the award winning notifications, and telling my producer and my cast that all the time and effort we make got some meaningful results. In that part I feel every step I move forward has its own purpose.
Do you feel that you learned anything from your involvement in the industry of post production? If so, what and how has it affected your other works?
I have learned a lot from my involvement in the industry of post production, like high-level of patience, detailed-oriented, and skills of communication. Post production could be a exciting work, or it could be tedious sometimes as well. Different people has different attributes, when cooperating with them, not always he or she is a nice person, so as a person focusing on post production, I have to be detailed oriented with high level of patience so I can the project on the right track. And gain the success at the end.
Media Contact
Company Name: Yue Ling International Media
Contact Person: Sue Zhang
Email: Send Email
Phone: +86 13701214678
Country: China
Website: http://www.flylingmedia.com