High-quality development calls for opening-up of service sector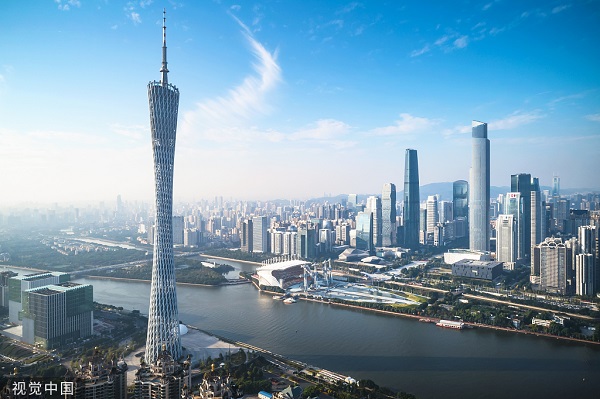 A view of Canton Tower in Guangzhou, Guangdong province. [Photo/VCG]
The State Council, China's Cabinet, recently approved a three-year pilot program for Shenyang, Nanjing, Hangzhou, Wuhan, Guangzhou and Chengdu to expand the opening-up of the service sector, increasing the number of such Chinese cities to 11. In 2015, Beijing became the first city in China to conduct a comprehensive pilot program for opening-up the service sector further.
The service sector is an important indicator of a country or region's economic and social development level. In recent years, China has regarded the further opening-up of this sector as an important step toward building a new development pattern. The State Council's latest approval shows once again China's determination to promote a higher level of opening-up. Through this, the country can vigorously attract global high-end service enterprises to enter the domestic market, and stimulate innovation vitality and the growth potential of domestic service providers through fiercer competition, to promote the high-quality development of the country's service sector.
Advancing the pilot program is an important policy arrangement made by the top authorities to promote high-level opening-up. In the past decade, a series of major policies and measures have been introduced to promote the high-level institutional opening-up of the service sector, and high-level trade and investment liberalization and facilitation.
China's per capita GDP has exceeded $10,000, and its consumption pattern is promoting the transformation from a goods-focused to a service-oriented one. However, the current value added of China's service sector accounts for about 55 percent of GDP, about 20 percentage points lower than that of developed countries. China's service sector also faces such problems as insufficient integration with the manufacturing sector, and insufficient development of modern services. Thus it needs opening-up further to foster new growth drivers and create new advantages in international competition and cooperation.
It is conceivable that through multi-dimensional innovation and exploration, the pilot cities will play an exemplary role in the opening-up of the sector nationwide, help further promote the reform and setting up of rules, regulations, and promote management know-how and standards in the sector, accelerate the development of modern services, promote the integration of modern services and advanced manufacturing, and lubricate China's high-quality development.
As China continues to expand the opening-up of its service sector, "Chinese services" are accelerating their global reach. As China takes bigger steps toward opening this sector, more domestic service enterprises will go global, highlighting the global significance of the expanded opening-up of China's service sector.
Media Contact
Company Name: The Information Office of Hangzhou Municipal Government
Contact Person: Cai Jingwen
Email: Send Email
Phone: 0510-68559077
Country: China
Website: http://www.ehangzhou.gov.cn/