Best Cutting Solution For Sealing PTFE Gaskets
PTFE gaskets, also known as Teflon gaskets, are widely used as sealing and filling materials in petroleum, chemical, pharmaceutical, electric power, steel and other industries for their excellent material properties. And the great empowering values created by Teflon gaskets should not be underestimated. Today, let's talk about knowledge about PTFE gaskets and PTFE gasket molding equipment.Teflon gasket is a polymer compound made of tetrafluoroethylene by polymerization, which has excellent chemical stability, corrosion resistance, sealing, non-toxicity, high lubrication, non-adhesion, electrical insulation, age resistance, and many other excellent characteristics. Therefore, it has been widely used in various applications.As one of the best corrosion resistant materials, PTFE gasket has solved many problems in the areas of chemical, petroleum and pharmaceutical.
Meanwhile, it has a variety of applications as a sealing material. How to better cut and process PTFE to solve the problems of complicated punching operations, serious material wastes, low utilization rate and secondary grinding processing has become the key focus of many gasket manufacturers.With the market becoming intelligent and mechanized, manual operation has been gradually replaced by machines, and laser machine, an insulation cutting machine, is not suitable for the cutting of all the materials, which will easily produce odor or material damage, thus reducing sales volume.Highly efficient and accurate PTFE gasket automatic press molding machines are designed to improve production efficiency and product quality, and promote the green and sustainable development of the production chain.
This kind of machine can meet customers' needs and guarantee product quality in a more efficient and precise manner in the era of intelligent automation.Established in 2006, Suko has over 13 years of manufacturing experience in PTFE/UHMWPE extrusion machinery and equipment for special applications in the field of plastics processing, and stays forefront of the Tetrafluorohydrazine industry with technology innovation, profession and intelligence both domestically and abroad.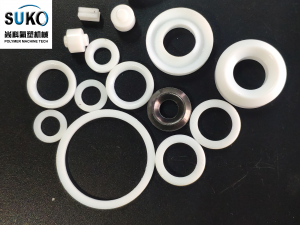 source: https://www.sukoptfe.com/news/best-cutting-solution-for-sealing-ptfe-gaskets/
Media Contact
Company Name: SuKo Polymer Machine Tech Co., Ltd.
Email: Send Email
Phone: +8619975113419
Address:No.5 Lvshu 3 road, Xuejia, Xinbei District
City: Changzhou
State: Jiangsu, 213000
Country: China
Website: https://www.sukoptfe.com/